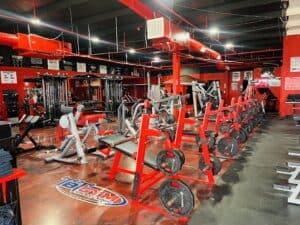 Our championship training facility has about 2,950 square feet of training area, kept clean and free of clutter. We have great instructors and a brand-new facility that motivates and inspires students to come in every day. We are proud to offer you a gym with a family atmosphere that promotes excitement and success.
The training area includes world-class equipment from heavy bags, Free-standing fitness punching bags, Olympic weight training equipment, over 500 sq. feet of Jiu Jitsu matted grappling area and free weights.
We have done the research and provide only the best equipment, giving you the greatest opportunity for total body workout, Brazilian Jiu Jitsu, striking classes, wrestling, and MMA workouts.
We are conveniently located at 1434 N Central Expway, Suite 122 in McKinney, TX. Local drive times are under 10 minutes from downtown McKinney and under 20 minutes for the greater Allen, McKinney, and Frisco area. With easy access to Central Expressway and HW 121, we are one of the most accessible gyms in the Dallas area.
Our professional staff is here to serve you and give you a proven workout that guarantees results. Together, we'll design a nutrition, weight lifting, and cardio program that helps you reach your health and fitness aspirations. You will learn new skills that will get you lean faster and boost your self-confidence.
We welcome people of all skill levels and have created programs for children, men, and women who are looking for a challenging and exhilarating place to condition and train. For our more advanced members, we offer a place to train alongside some of the best fighters in combative sport including Alistair Overeen and Adenilson Clementino.